5 DAY SUGAR CLEANSE LIVE TELE GROUP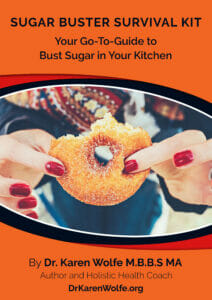 The next 5 Day Sugar LIVE tele-class starts April 8, 2019!
You receive the live tele-class coaching, email coaching and handouts at no charge! Dr. Karen will order your kit and email your materials so you are ready to begin with the live tele-class.
CLICK HERE to join
The 5-Day Sugar Busters helps you get off the sugar roller coaster and understand crazy carbohydrate cravings.  A person's weight is a reflection of so much more than simply calories in, calories out.