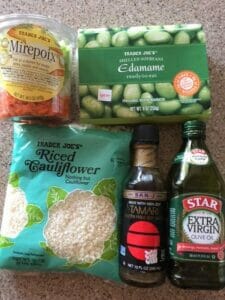 Cauliflower Fried Rice is so easy to make. Especially when you buy the ingredients all ready to go. Here is the image of what you need.
INGREDIENTS
3 cups of "riced" raw cauliflower (you can buy it fresh in a bag or frozen or rice it yourself)
1/2 cup frozen edamame
1/2 cup carrots, dices
 3-4 garlic cloves, minced
 1/2 cup onion, diced
 1/2 TBSP olive oil
 2 eggs (or 4 egg whites) scrambled (if desired)
 3 TBSP tamari or soy sauce
Diced chicken (if desired)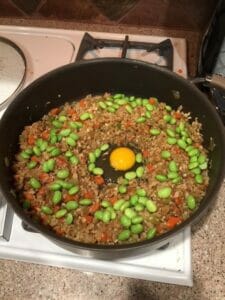 QUICK AND EASY STEPS
In a large pan, saute garlic and onions in olive oil on a medium/high heat, until onions become soft and transparent. (about 2-3 minutes)
Next add in carrots and cook until carrots begin to soften, about 3-4 minutes
Next stir in scrambled eggs (if desired)  , cauliflower rice and tamari (or soy sauce). Cook stirring frequently for about 5-7 more minutes.
Enjoy adding in your favorite protein and veg. Possible add-ins, chicken broccoli, cabbage, bok choy, water chestnuts, chicken, tofu, and shrimp!
This is delicious, low glycemic, full of healthy fats and good protein and the whole family will love it. I cook it as a full meal and also as a side dish. every time I have made this, people love it.
If you would like to book a coaching session with me for more recipes and meal plans BOOK HERE